Ms. Montalbano will be performing the role of Isaac in Benjamin Britten's Abraham and Isaac. This piece will be one of three of Britten's Five Canticles that will be performed with Choral Arts of Philadelphia, directed by Matthew Glandorf.
Written in 1952, Britten adapted text from medieval language of the Chester Miracle Plays rather than the authorized version of Bible. During this canticle, Britten portrays the most dramatic moment in the life of Abraham as recounted in Genesis 22, the binding and near sacrifice of his beloved son Isaac in obedience to God.
– program notes from Krista Tippett's Being from American Public Media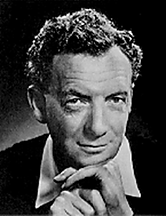 Also on the program: Gesualdo's
Tenebrae Responsoria de Sabbato Sancto
and Stravinsky's
Pater Noster
.
David Price – Abraham
Maren Montalbano – Isaac
Matthew Glandorf – conductor
Where:
St. Mark's Episcopal Church
1625 Locust Street
Philadelphia, PA 19103
When:
Friday, April 8, 2011 at 8:00pm