Philly Singer Creates Opportunities for Women with New Album (& Your Support)
Maren Montalbano's album emphasizes the talents of women composers and women performers, battling the gender gap in classical music.
FOR IMMEDIATE RELEASE
WILLINGBORO, New Jersey – Maren Montalbano, a professional singer in the Philadelphia area, has launched a crowdfunding campaign on Indiegogo to raise funds for an album of music written and performed by women.
Much has been written recently about the "gender gap," particularly during this election season, and the classical music industry is not immune to scrutiny. Both Opera America and the League of American Orchestras recently released reports quantifying what many suspected: in the last five years, only 12% of all works performed in major opera houses and concert halls across the country were written by women.
"There are only a handful of organizations that are addressing this disparity in a significant way," Montalbano commented. "I'm taking this opportunity to tip the scales and fund women's music directly and immediately. I feel strongly that there are talented women artists who are overlooked, and the best way I can make a statement is by making an album."
Sea Tangle: Songs from the North is that album: a compilation of works for voice, harp, and violin. It will feature two commissioned world premieres by Emily Lau and Melissa Dunphy; other works include a song cycle by Kamala Sankaram and a little-known set of Scottish folk songs collected in the early 1900s by Marjory Kennedy-Fraser. Violinist Rebecca Harris and harpist Christa Patton join Montalbano to perform these works.
About Maren Montalbano: A graduate of New England Conservatory of Music and Tufts University, Maren Montalbano has appeared on over a dozen commercial albums, including Douglas Cuomo's Arjuna's Dilemma, Kile Smith's Vespers, and Lewis Spratlan's Hesperus is Phosphorus. Ms. Montalbano has been a guest artist with Lyric Fest, Network for New Music, Tempesta di Mare, and Piffaro, the Renaissance Band. Her voice has been described as "impeccable" (Broad Street Review) and "suave and sensuous" (Philadelphia Inquirer).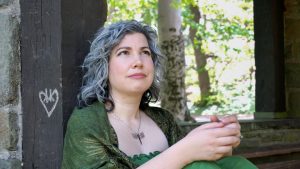 # # #
If you would like more information about this campaign, visit https://igg.me/at/seatangle.