The instrumentalists playing the music of Sea Tangle are talented women from the Philadelphia area. Maren Montalbano is thrilled to be working with them both, and their combined experience with new and early music will create a unique blend of ancient and contemporary storytelling.
Violin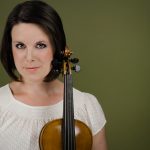 Praised for her "impeccable tone, pitch, dynamics and phrasing" (Chestnut Hill Local), English violinist Rebecca Harris performs on both period and modern instruments. Rebecca serves as concertmaster of the Philadelphia Bach Collegium for their series Bach@7, and has been a member of Tempesta di Mare since 2007, appearing on their orchestral recordings for Chandos. In demand as a soloist and chamber musician, recent engagements include performances for Tempesta di Mare's Artist Recital series, the Bach Festival of Philadelphia, Music at Gretna, the Haydn Society of North America and Society for Eighteenth Century Music, Sofar Sounds, and Fringe Arts Philadelphia, amongst others. She is a founding member of the Franklin Quartet, performing early string quartet repertoire on period instruments. Rebecca serves on the violin faculty of the Curtis Summerfest Young Artist Summer Program, and as a Teaching Artist of the The Philadelphia Orchestra's School Partnership Program.
Rebecca's combined passions for collaborating with singers and performing new music have led to recordings with Choral Arts Philadelphia (David Ludwig's Hannukah Cantata), songwriter Andrew Lipke (Siddhartha) and The Crossing and Donald Nally (Thomas Lloyd's Bonhoeffer, for upcoming release).
Rebecca studied at the Royal Northern College of Music (United Kingdom) with Richard Ireland.
Harp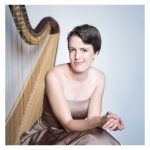 Elizabeth Huston (née Morgan-Ellis) received her Masters degree from Temple University where she studied with Elizabeth Hainen. Huston is currently the principal harpist of the Lansdowne Symphony Orchestra. In her solo career she specializes in multi-media productions of new music. Her production entitled 14 Sequenzas was acclaimed as "2014's Most Daring Presentation of Classical Music" by the Philadelphia Inquirer. Harp Column editor Kimberly Rowe credited her with "Bringing the harp into the 21st century." As an educator, she teaches harp through the El Sistema program Play on, Philly! and her private studio.